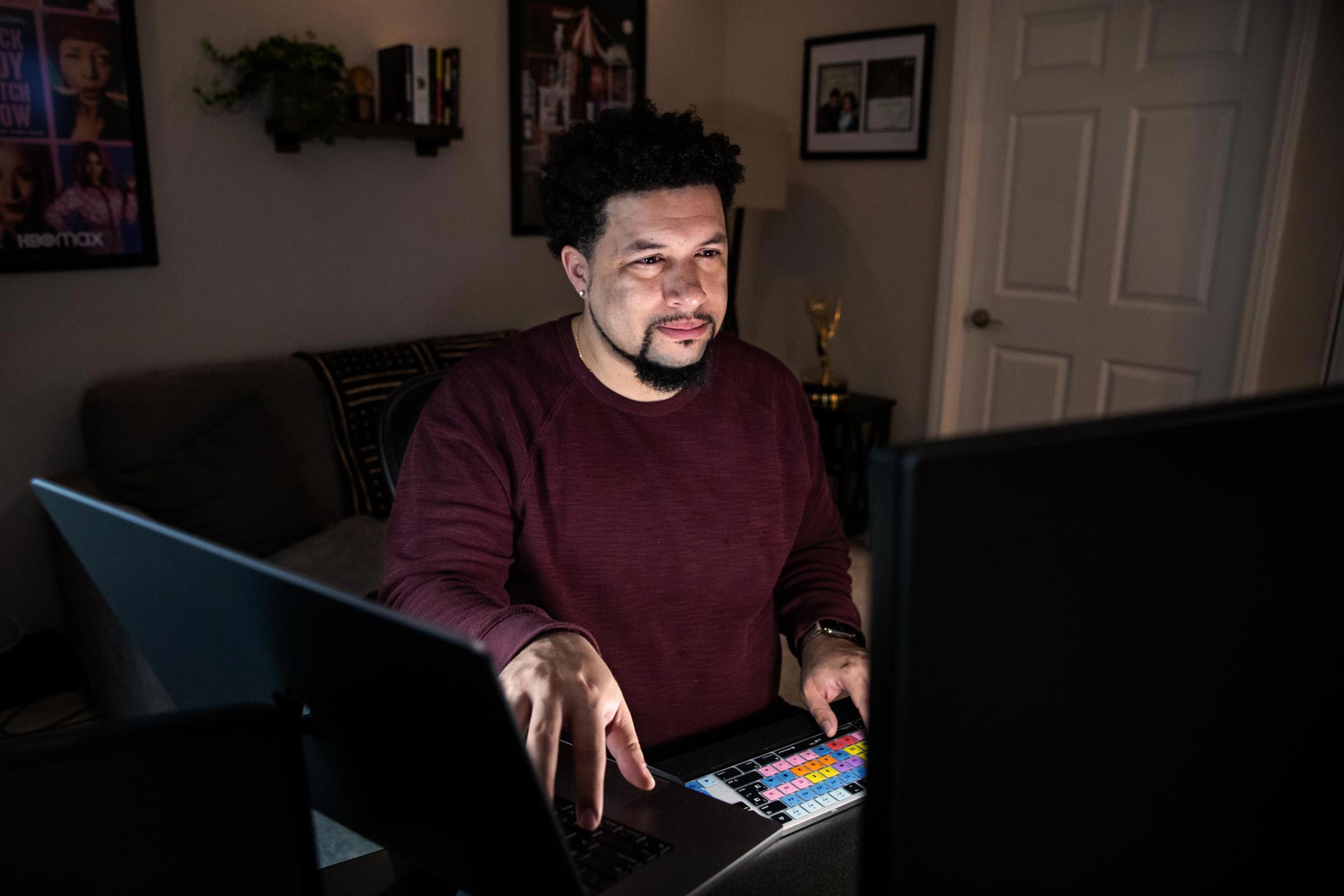 As he considers the nuances of his craft, Bradinn French reaches for an art metaphor to describe the differences in the genres in which he has worked.
"Editing a documentary is like making a sculpture— like you've got this big block and you're chiseling at it, finding the pieces to tell the story that you want to tell," says French, a 2008 communication arts graduate who has been working as a film editor in Los Angeles for the past 14 years. "Doing scripted work is like painting. It's a lot of fine detail, and you end up with this elaborate, detailed portrait that you arrive at in a completely different way. In the last few years, I have been able to make a jump over to another area that I was really looking to get into, and it's been serving me well."

You can say that again. French's profile has been on the serious ups over the past five years. His film editing resume includes documentaries (2011's Dark Girls and 2018's Medal of Honor) and work on the tenth season of American Horror Story. His office décor includes the 2022 Primetime Emmy and the 2023 American Cinema Editors awards he won for the editing work he did on several episodes of the first season of HBO's popular A Black Lady Sketch Show. The trophies are tucked inconspicuously on a corner table behind his workstation in the L.A. home he shares with his wife, Nicole, and their son, Israel.
French has been spending a lot of time there lately, crunching 12-plus-hour days since November working on his latest big project: Washington Black, an upcoming series for Hulu based on the novel by Esi Edugyan, about a young Black boy in Barbados who escapes slavery and travels the world with an inventor while trying to elude his captors. French describes it as "ambitious and emotional." He is thrilled to be editing a dramatic series.
"In this world I'm in, it can be difficult to leap across different formats and genres," says French. "People tend to want to pin you into one place or another."
French started in documentary film and reality television but slowly began to expand his scope. He used the pandemic to leverage and expand his brand, collecting the emails of producers and vice presidents who participated in Zoom panels and using them to launch conversations.
Not bad for a man who describes himself as a serious introvert.
"It really changed the math as far as putting your foot into a door because, previously, there were a lot of executives I was never able to meet because, you know, I gotta take off work," French explains. "I gotta go to their building. I gotta make my way in, and these people are insanely busy." The strategy helped land him the American Horror Story gig, which in turn led to A Black Lady Sketch Show.
To French, film editing is the quiet, solitary art of storytelling, not just removing the bad parts and highlighting the good.
"You are essentially crafting the exact thing that is going to be on air or on the screen," he says. "And then audiences are going to experience and feel all that comes from the film editing. We are the last stop on the filmmaking train, and I think that's why I'm so passionate about it, because I love sitting in those rooms late at night with all this footage and figuring out how to put it together in a way that's going to make you feel something."
French's gig can be magical, but it's also extremely stressful. He talks about a term called "keeping up with camera," which equates to quickly assembling scenes from piles of raw footage on a near-daily basis.
"It's one thing to just do it. It's another thing for it to be good," says French. "No one is making TV shows or movies to be okay. Nobody's settling on 'A for effort.'"
[Film editors] are essentially crafting the exact thing that is going to be on air or on the screen …  We are the last stop on the filmmaking train, and I think that's why I'm so passionate about it.
When French, who grew up in Madison, first came to UW-Madison in 2003, he thought he would be shooting film, not editing it. His childhood should have telegraphed it. Young Bradinn paired his family's oversized VCR players to edit video mixtapes from his and his sister's home movies. In high school, instead of authoring an essay on Hermann Hesse's Siddhartha, French filmed and edited his own interpretation of the book.
French's docket is filled with Washington Black, and he and Nicole, an attorney, actor and screenwriter, are expecting their second child later this year. But French has an extensive list of projects he'd eventually like to tackle, including taking another crack at feature films and forming his own creative team.
"I would really love to dip into sci-fi, stuff like Blade Runner," French says. "But there are all kinds of genres and formats that I would like to explore. I am constantly trying to plant those seeds."